how to chose the right Hearing aid accessories
After you've selected the right hearing aids for yourself, it's time to choose the best hearing aid accessories to complement and help maintain them.
Because hearing aids are worn every day, occasional maintenance is required to keep them working properly. As part of your hearing aid purchase, your hearing care provider may provide some necessary accessories for the care and maintenance of your hearing aids. Others you may need to purchase separately and are entirely optional.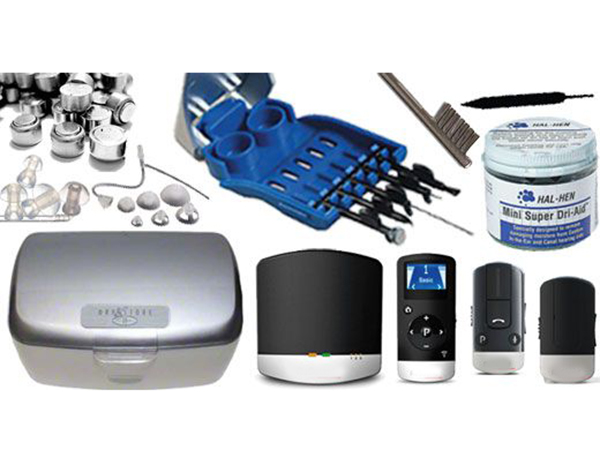 Additionally, if you have hearing loss, you may also be interested in purchasing a hearing aid (ALD) to enhance your hearing experience. ALD makes it easier to make phone calls, watch TV, attend public events, and attend work meetings.
Basic Hearing Aid Accessories
Battery
All hearing aids require a power source to work. Unless you have rechargeable hearing aids, you will need a constant supply of disposable hearing aid "button" batteries.
Hearing aid batteries come in four different sizes. From smallest to largest, they are: 10, 312, 13, and 675. Your hearing aids will run on one of these specific types of batteries, and your hearing care provider will usually provide a small amount to help you get started. Batteries use a standardized color-coding system to help ensure you get the correct type.
Carry spare batteries with you to get ready for your day and keep your hearing aids running without interruption.
cleaning tools
Regular cleaning and routine maintenance by your hearing care provider will keep your hearing aids working reliably and extending their lifespan.
While batteries and cleaning equipment are essentials for every hearing aid wearer, these optional accessories can make your device easier to maintain or help you get the most out of it.
Hearing Aid Dryers/Dehumidifiers:
If you sweat a lot, live in a humid climate, or enjoy a lot of outdoor activities that could expose your hearing aids to harmful moisture, these accessories can help.
Regular dehumidifiers use a desiccant to draw out moisture overnight. The desiccant will last a long time and will be reactivated periodically. The more sophisticated ReNew hearing aid dryer is a small electronic device that uses UV light to dry and sterilize hearing aids overnight. These can be purchased online or through your hearing care professional.
Bluetooth Streaming Devices:
Most advanced hearing devices are already Bluetooth compatible, making it easy to connect wirelessly to a variety of devices such as cell phones, MP3 players, and TVs. You may need a relatively inexpensive external streaming device designed to work with your specific hearing aid.
suitcase. If you enjoy swimming or other outdoor activities, you may need to take off your hearing aids occasionally when you are out and about. A waterproof, shatterproof carrying case is a great product to keep your hearing aids safe and dry.
Hearing aid accessories for your lifestyle
The examples above are just a few of the many hearing aid accessories that are tailored to specific lifestyles. Other accessories have clips that allow you to engage in sports or physical activity, preventing them from falling. If you're a fashion-conscious adult or a child who wants to express their individuality, other accessories like colorful pendants and decals can make wearing your hearing aids more fun.
Before purchasing any hearing aid accessories, please visit a hearing healthcare professional to verify that it will work with your hearing aids.